Over 30 Years Experience Established in 1988, we have completed many building and decorating projects and know what is required to get the job done to a high standard.
Excellent 5 Star Service Our customers rate us for our high standards. We always provide a top rate service and make sure each project we complete matches your expectations.
Family Run Business At the heart of our business is family. We are a local company that brings our values and overall family ethos to each project we are involved in.
Painters and decorators in High Wycombe & Surrounding Areas
Dove Décor & Construction are skilled painters and decorators in High Wycombe. We provide top-rate services throughout the local and regional areas and can work on a wide variety of projects. We have completed many unique and interesting painting improvement projects, having worked on full home renovations as well as smaller projects such as painting and decorating for single rooms.
Our team of highly skilled painters know what is required to get the job completed to a level you'd expect. We pay complete attention to ensure each detail is finely finished ensuring your home appears perfectly. As well as painting and decorating in the home, we can complete painting renovations on exterior areas, giving your home a fresh outward appearance.
As well as offering painters and decorators in High Wycombe, we also offer painters and decorators in Beaconsfield, Aylesbury, Princes Risborough, Tring, Thame and all counties surrounding Buckinghamshire.
Painting and decorating services we provide include:
✔ Interior Painting & Decorating
✔ Exterior Painting & Decorating
✔ Preparing
✔ Filling
✔ Dust-Free Sanding
✔ Ceilings & Woodwork
✔ Painting Walls, Doors & Wooden Surfaces
✔ Skirting Boards, Coving & Window Sills
✔ Wallpaper Removal & Hanging
✔ Curtain Hanging
✔ Tv Wall Mounting
✔ Mist Coating of New Plaster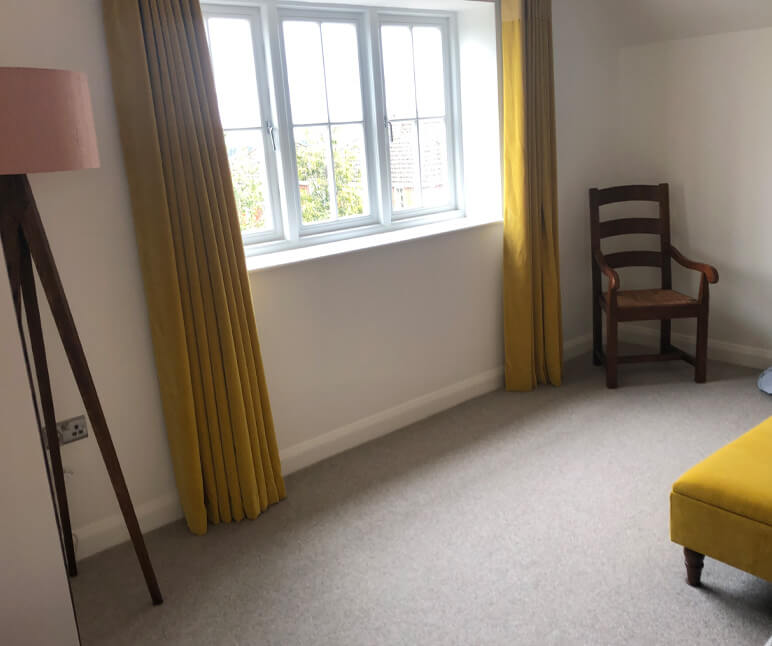 Expert Painters in High Wycombe
Our team of expert painters in High Wycombe have the skills to get your home looking exactly how you want it. Using the very best tools and expertise, we guarantee that the final finish will meet your expectations. With experience that spans over 30 years, we have a large portfolio of satisfied and happy customers that have enjoyed the benefits of a newly decorated home. We work with you to ensure the finished project meets your plans and vision. By the time we have finished painting your home interior or exterior, you'll be overjoyed with the results.
All our painters and decorators in High Wycombe will be respectful towards your home and will work in a way that minimises any disruption for you and your family. We work to very specific deadlines to ensure the project is completed in a timely fashion for you. To provide you with the very best service, we offer a free quote before work goes ahead. This gives you the time to think about your project before it begins.
We Also Offer Interior Design Expertise
As well as providing painting and decorating in High Wycombe, we also offer interior design. With years in the trade, we have seen many unique and interesting interior design ideas. This has filled us with the knowledge and creativity needed to get your home looking newly refreshed. Before painting and decorating begins, we will be able to discuss what type of ideas would best suit your personality and come up with a definitive plan that can be brought to life. Once we have planned the idea, work can begin, and you will be overjoyed with the final result.
If you're ready to go ahead with your home decorating project, contact us for more information. Having been in the trade since 1988 we have the knowledge, experience and patience to work on a wide variety of projects and look forward to adding your home improvements to our portfolio. Call 01844 273 030 to request a quote for the painting and decorating work you would like completed. You'll be highly satisfied with our painting services.
Starting A New Project? Let Us Help Make Your Vision A Reality
Request a Quote
Testimonials
"We have had a number of jobs done by Dove Decor including decorating, replacement of bannisters, refitting of bathrooms, moving interior walls to provide and fit a utility room, replacement doors and windows, new kitchen, new fascia boards and guttering. They are a family business and an absolute pleasure to work with. We trust them to always do an excellent job. Dave provides a complete service of managing the project, and has a real eye for what can be done."